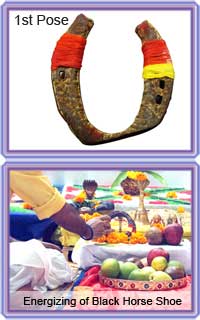 Product Name:
Black Horse Shoe-PUBHS1009
Product Description: The Horse Shoe is not an ordinary Horse Shoe. It comes from a Black Horse. This Horse Shoe is taken out on auspicious time from a Black Horses front right leg. The Black Horse is a rare Horse, whose front right leg strikes near to the left leg while running.
Horse shoe is a common remedial measure used all over the world to keep the evil away. Black Horse Shoe is a universal good luck charm.
We are sending Horse Shoe after energizing.
Donation Amount :
Rs 1000/- or $ 14 USD
Tulsi & Shaligram Vivaha Vidhi
New Link
Click Here More New
Devotees Please Click Arrows Below for Quick Selection of"Shree Shaligrams"
Shaligram
Rudraksha
Dwarka Shila
Giri Govardhan Shila
Shankh
Aura
Parad
Meteorites
Murties & Idols
Yantras
Puja Items
CD's, DVD's & Books
Main Categories
View All Categories
Shaligram Water kit
Gandaki Water
Shaligram Water
Our Clients Temple
Click Here Payment Option
Click here for more Testimonials