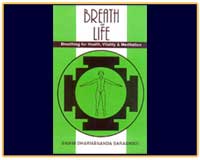 Product Name:
Breath of Life-BKA029
Product Description: The book is meant for increasing breath awareness used in many disciplines to bring about balance and harmony between body, mind and spirit.
It has been found that stretching movements with breath knowledge and co-ordination can help muscle tone, improve glandular movement and reactive the internal organs. People with high blood pressure and heart disease can benefit from the slow smooth movement with breath co-ordination.
Donation Amount :
Rs 167/- or $ 2 USD
Tulsi & Shaligram Vivaha Vidhi
New Link
Click Here More New
Devotees Please Click Arrows Below for Quick Selection of"Shree Shaligrams"
Shaligram
Rudraksha
Dwarka Shila
Giri Govardhan Shila
Shankh
Aura
Parad
Meteorites
Murties & Idols
Yantras
Puja Items
CD's, DVD's & Books
Main Categories
View All Categories
Shaligram Water kit
Gandaki Water
Shaligram Water
Our Clients Temple
Click Here Payment Option
Click here for more Testimonials