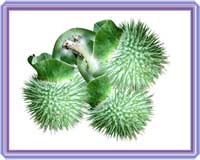 Product Name:
Datura Fruits-PSMG001
Product Description: Datura Fruit- Set of 3
It is said that Vedic scriptures as Shivashekhera (because of its regarded association with the Hindu God Shiva), Datura plant was known for ancient Hindu physicians as an intoxicant with digestive and healing properties. The leaves, seeds and a part of this plants flowers constitute the drugs yielded by the plant. Datura is useful in curing and relieving cardiac patients of palpitation, aortic disorders, and cardiac pains. The seeds of the ripe fruits of the Datura herb are effective in curing impotency. In severe attacks of whooping cough and asthma, the American and British Pharmacapoeia list the dried leaves and seeds of the Datura plant to have the same effect as Belladonna. Its anti-spasmodic properties are proven to be invaluable in controlling spasmodic disorders.
Donation Amount :
Rs 96/- or $ 1 USD
Tulsi & Shaligram Vivaha Vidhi
New Link
Click Here More New
Devotees Please Click Arrows Below for Quick Selection of"Shree Shaligrams"
Shaligram
Rudraksha
Dwarka Shila
Giri Govardhan Shila
Shankh
Aura
Parad
Meteorites
Murties & Idols
Yantras
Puja Items
CD's, DVD's & Books
Main Categories
View All Categories
Shaligram Water kit
Gandaki Water
Shaligram Water
Our Clients Temple
Click Here Payment Option
Click here for more Testimonials