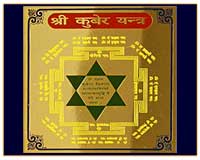 Product Name:
Energized Shree Kuber Yantra - YT01
Product Description: Vedic scriptures mention that Kuber is the god of wealth and one of the richest demigods in the heavenly planets. He is also called the god of Yakshas (savage beings). Kuber is the actual lord of riches in the Indian pantheon.

In Srimad Bhagvatam (4.6.34), it is mentioned that Lord Siva is surrounded by saintly persons like Kuvera, the master of the Guhyakas, and the four Kumaras, who were already liberated souls. Lord Siva was grave and saintly. Thus, the god of wealth Kuvera sits next to Shiva who blesses anyone worshiping him.

Worshipping Kuber Yantra on a regular basis brings about a distinct change in one's prosperity and luck though, of course, effort remains paramount.

This is an extremely powerful as well as rare Yantra. The one who has it will never ever lack in money, material comforts and his house as well as treasury will always be full. His family will never fall short of resources.

This Yantra can be installed in a temple room, kept in your cash box, kept inside the cupboard and in offices where financial transactions are carried out. It blesses the worshipper with money and prosperity by drawing new avenues and sources of income and wealth. It helps increase the flow of funds and the ability to accumulate wealth.
Dimension :
5inch x 5inch
Donation Amount :
Rs 1451/- or $ 21 USD
Tulsi & Shaligram Vivaha Vidhi
New Link
Click Here More New
Devotees Please Click Arrows Below for Quick Selection of"Shree Shaligrams"
Shaligram
Rudraksha
Dwarka Shila
Giri Govardhan Shila
Shankh
Aura
Parad
Meteorites
Murties & Idols
Yantras
Puja Items
CD's, DVD's & Books
Main Categories
View All Categories
Shaligram Water kit
Gandaki Water
Shaligram Water
Our Clients Temple
Click Here Payment Option
Click here for more Testimonials