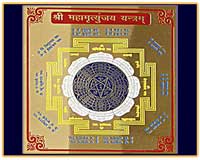 Product Name:
Energized Shree Mahamrityunjaya Yantra - YT11
Product Description:
Mahamrityunjay Yantra:

Maha Mritunjay Yantra is a powerful tool to attract the divine blessings of Rudra who alone can keep you away from inauspicious troubles. One can dip the Yantra into water that gets purified. This purified water can be drunk to cure various internal diseases. It can also be sprinkled in the house to create a purified and peaceful atmosphere at home.

One can keep it outside above the main entrance to their home; this will keep all the evils away from its residents. The worship of this yantra frees the one from fear of death, grave dangers, and fatal diseases, making them courageous and healthy.

First, purify your body and start with a clear and positive mind frame
Find a place on the floor facing east, where you will be undisturbed.
Light the incense or an oil lamp. (It does not matter how many you light).
Lay a fresh flower and a fresh fruit on the altar.
Open the Yantra and place it along with the image of the deity of Yantra and your Iisht god.
Take the water with a leaf from any tree and sprinkle the water on yourself, followed by sprinkling the water on the Yantra.
Close your eyes and concentrate on the deity to bless you with wishes. Now with all sincerity, ask God for whatever you wish.
Dimension :
5inch x 5inch
Donation Amount :
Rs 1451/- or $ 21 USD
Tulsi & Shaligram Vivaha Vidhi
New Link
Click Here More New
Devotees Please Click Arrows Below for Quick Selection of"Shree Shaligrams"
Shaligram
Rudraksha
Dwarka Shila
Giri Govardhan Shila
Shankh
Aura
Parad
Meteorites
Murties & Idols
Yantras
Puja Items
CD's, DVD's & Books
Main Categories
View All Categories
Shaligram Water kit
Gandaki Water
Shaligram Water
Click Here Payment Option
Click here for more Testimonials