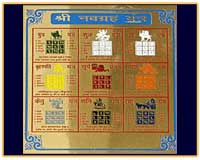 Product Name:
Energized Shree Navgraha Yantra-YT03
Product Description:
Navagraha Yantra:
This Yantra helps negate the malefic effects of the nine planets and bestows beneficial effects. It consists of nine squares, each with a talisman representing one planet. It is extremely useful for worshipping them to strengthen benevolent planets by increasing their positive influences.

At the same time, this Yantra pacifies malefic planets and neutralizes negative effects. The Nav Graha Yantra is recommended for all individuals whose birth charts indicate negative positioning of the above planets within the horoscope that can distress ones health, prosperity and peace of mind. Lifelong worship of the Nav Graha Yantra maximizes advantages from planetary influences.


Yantra Guidelines
First, purify your body and start with a clear and positive mind frame
Find a place on the floor facing east, where you will be undisturbed.
Light the incense or an oil lamp. (It does not matter how many you light).
Lay a fresh flower and a fresh fruit on the altar.
Open the Yantra and place it along with the image of the deity of Yantra and your Iisht God.
Take the water with a leaf from any tree and sprinkle the water on yourself, followed by sprinkling the water on the Yantra.
Close your eyes and concentrate on the deity to bless you with wishes. Now with all sincerity, ask the gods of nine planets for whatever you wish.
Dimension :
5inch x 5inch
Donation Amount :
Rs 1451/- or $ 21 USD
Tulsi & Shaligram Vivaha Vidhi
New Link
Click Here More New
Devotees Please Click Arrows Below for Quick Selection of"Shree Shaligrams"
Shaligram
Rudraksha
Dwarka Shila
Giri Govardhan Shila
Shankh
Aura
Parad
Meteorites
Murties & Idols
Yantras
Puja Items
CD's, DVD's & Books
Main Categories
View All Categories
Shaligram Water kit
Gandaki Water
Shaligram Water
Click Here Payment Option
Click here for more Testimonials