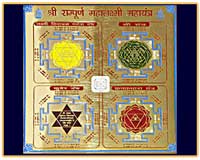 Product Name:
Energized Shree Sampurna Mahalaxmi Yantra - YT09
Product Description: A Yantra complete with all the deities of wealth and prosperity to shower upon you all the abundance of the world.

A combination of 4 most powerful wealth and prosperity yantras: Kanakdhara Yantra, Shri Durga Yantra, Shri Kailash Yantras, Shri Mahalaxmi Yantras.

Purpose:
Bestows wealth, prosperity and good fortune on the worshipper.
Worshipper never lacks in money & material comforts.
Worshippers house & treasury are always full.
Helps increase the flow of funds and the ability to accumulate wealth.
Source of attaining all worldly desires & fulfilling all wishes through inner cosmic power & mental strength.
Bestows Ashta Riddhi and Nav Siddhi.

Dimension :
5inch x 5inch
Donation Amount :
Rs 1451/- or $ 21 USD
Tulsi & Shaligram Vivaha Vidhi
New Link
Click Here More New
Devotees Please Click Arrows Below for Quick Selection of"Shree Shaligrams"
Shaligram
Rudraksha
Dwarka Shila
Giri Govardhan Shila
Shankh
Aura
Parad
Meteorites
Murties & Idols
Yantras
Puja Items
CD's, DVD's & Books
Main Categories
View All Categories
Shaligram Water kit
Gandaki Water
Shaligram Water
Click Here Payment Option
Click here for more Testimonials