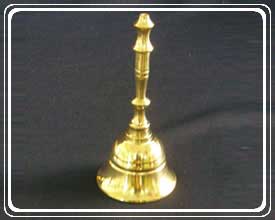 Product Name:
Hand Ghanti (Bell) Big-Brass-PUPT-007
Product Description: Temple bell are an integral part of puja. They are used while performing aarti (holding the lighted lamp in the right hand one rotates the flame in a clockwise circling motion to light the entire form of the God). These sounds help to drown any inauspicious or disturbing noises and comments that might disrupt the worshippers in their concentration and inner peace.

Donation Amount :
Rs 232/- or $ 3 USD
Tulsi & Shaligram Vivaha Vidhi
New Link
Click Here More New
Devotees Please Click Arrows Below for Quick Selection of"Shree Shaligrams"
Shaligram
Rudraksha
Dwarka Shila
Giri Govardhan Shila
Shankh
Aura
Parad
Meteorites
Murties & Idols
Yantras
Puja Items
CD's, DVD's & Books
Main Categories
View All Categories
Shaligram Water kit
Gandaki Water
Shaligram Water
Our Clients Temple
Click Here Payment Option
Click here for more Testimonials