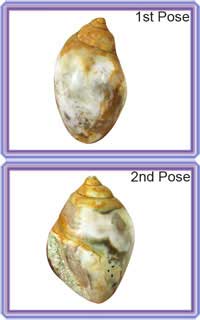 Product Name:
Heera Shankh-06AUSHA
Product Description: This Heera Shankh is extremely beautiful and completely full of Gems and crytals of yellow, brown, white, and several other colours. This Shankh is well formed and glittering with different colours. The Heera Shankh takes the devotee to Laxmi Siddhi and bestows him with immense wealth, fortune and protection.

Benefits of worshipping Heera Shankh:
-
Dimension :
5.7cm x 3.4cm
Donation Amount :
Rs 16100/- or $ 230 USD
Tulsi & Shaligram Vivaha Vidhi
New Link
Click Here More New
Devotees Please Click Arrows Below for Quick Selection of"Shree Shaligrams"
Shaligram
Rudraksha
Dwarka Shila
Giri Govardhan Shila
Shankh
Aura
Parad
Meteorites
Murties & Idols
Yantras
Puja Items
CD's, DVD's & Books
Main Categories
View All Categories
Shaligram Water kit
Gandaki Water
Shaligram Water
Our Clients Temple
Click Here Payment Option
Click here for more Testimonials