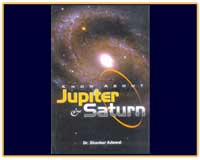 Product Name:
Know about Jupiter & Saturn-BKA008
Product Description:
The role of Jupiter & Saturn is extremely important in analysing the strength of the horoscope as Jupiter indicates the potential and Saturn tells the inherent energy which the person possess to accomplish things in life. The book deals from basics to the aspects and the impacts of conjuctions, placements, nakshatra and results due to conjuctions which have been explained in context to the Nadi system.
Donation Amount :
Rs 660/- or $ 9 USD
Tulsi & Shaligram Vivaha Vidhi
New Link
Click Here More New
Devotees Please Click Arrows Below for Quick Selection of"Shree Shaligrams"
Shaligram
Rudraksha
Dwarka Shila
Giri Govardhan Shila
Shankh
Aura
Parad
Meteorites
Murties & Idols
Yantras
Puja Items
CD's, DVD's & Books
Main Categories
View All Categories
Shaligram Water kit
Gandaki Water
Shaligram Water
Our Clients Temple
Click Here Payment Option
Click here for more Testimonials