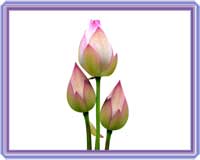 Product Name:
Lotus (Kamal) Flower-PSMG003
Product Description: Set of 3 fresh Lotus (Kamal) Flowers
Lotus is associated with several Hindu deities. Lotus Flower is one of the most popular symbols in Hindu religion. It is believed that Lord Brahma emerged from the navel of Lord Vishnu sitting on a lotus. Goddess Saraswati, the Hindu Goddess of learning, is shown sitting on a lotus. Lotus flower is a symbol of eternity, plenty and good fortune and Goddess Lakshmi, the Hindu goddess of wealth, is usually depicted with a lotus flower. Devotees offer these flowers to their deities as a symbol of love and devotion, and the presence of flowers to there gods and goddesses.
Donation Amount :
Rs 160/- or $ 2 USD
Tulsi & Shaligram Vivaha Vidhi
New Link
Click Here More New
Devotees Please Click Arrows Below for Quick Selection of"Shree Shaligrams"
Shaligram
Rudraksha
Dwarka Shila
Giri Govardhan Shila
Shankh
Aura
Parad
Meteorites
Murties & Idols
Yantras
Puja Items
CD's, DVD's & Books
Main Categories
View All Categories
Shaligram Water kit
Gandaki Water
Shaligram Water
Our Clients Temple
Click Here Payment Option
Click here for more Testimonials