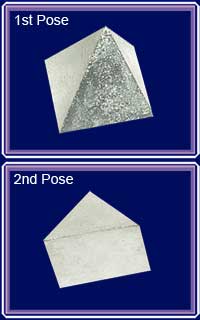 Product Name:
Parad Power Pyramid-PRDITM02
Product Description: This powerful pyramid made of pure 100% medicated parad (mercury) generates powerful vibrations to purify and enhance the aura of the place where it is kept. It invites good luck, harmony, increases concentration levels and neutralises negative energies present. Ideal for office table / study table / vehicle / bed room / living room and just anywhere in your home/office. Major Vastu dosha may be removed by keeping parad pyramid in the appropriate locations.

(8 stage of Purifications done as per Parad Sanmhita) and removal of Saptakanchuki(100 % medicated and hygienic); the Siddha Parad pyramid (Mercury mouth closed with Aghor Vidhya) is formed to make Murthi-Badhha/Agnibadha(sustain the heat) parad.

Keep this on the West side of your home/office at height between 4 feet- 5 feet above ground . This is a very powerful remedy for making Saturn benefic and getting blessings from this powerful planet .
Dimension :
3.2cm x 2.5cm
Donation Amount :
Rs 3300/- or $ 47 USD
Tulsi & Shaligram Vivaha Vidhi
New Link
Click Here More New
Devotees Please Click Arrows Below for Quick Selection of"Shree Shaligrams"
Shaligram
Rudraksha
Dwarka Shila
Giri Govardhan Shila
Shankh
Aura
Parad
Meteorites
Murties & Idols
Yantras
Puja Items
CD's, DVD's & Books
Main Categories
View All Categories
Shaligram Water kit
Gandaki Water
Shaligram Water
Our Clients Temple
Click Here Payment Option
Click here for more Testimonials