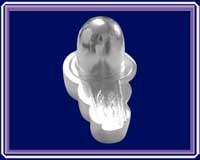 Product Name:
Parad Shivlinga-PRDSH02
Product Description: Complete with 8 Sanskaars (8 stage of Purifications done as per Parad Sanmhita) and removal of Saptakanchuki(100 % medicated and hygienic); the Siddha Parad(Mercury mouth closed with Aghor Vidhya) is formed to make Murthi-Badhha/Agnibadha(sustain the heat) Shiva lingam. The Extract from this Shivling gives 24 Ras and 5 Tatva which removes all diseases in the body.

The one which is capable of giving instant Luck, wealth, position, name and fame. The presence of which in the House is itself a complete life. Shiva lingam is the holy symbol of union of Lord Shiva and Shakti . Shivalingam is worshipped in homes and temples. At home it blesses with unity and harmony in the family and guides its devotees to spiritual path.
Dimension :
6.1cm x 3.6cm
Donation Amount :
Rs 15000/- or $ 214 USD
Tulsi & Shaligram Vivaha Vidhi
New Link
Click Here More New
Devotees Please Click Arrows Below for Quick Selection of"Shree Shaligrams"
Shaligram
Rudraksha
Dwarka Shila
Giri Govardhan Shila
Shankh
Aura
Parad
Meteorites
Murties & Idols
Yantras
Puja Items
CD's, DVD's & Books
Main Categories
View All Categories
Shaligram Water kit
Gandaki Water
Shaligram Water
Our Clients Temple
Click Here Payment Option
Click here for more Testimonials