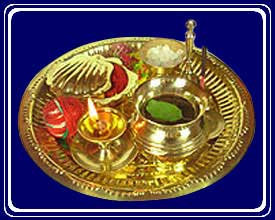 Product Name:
Puja Thali - (Brass)-PUPT-002
Product Description: Brass is one of the five metals sacred to the Gods. Attractive puja tray containing (clockwise):
Puja tray of diameter 7.5 inches
Bell of height 3 inches
Incense stick holder of height 1 inches
Kalash for holding the milk-and-water mixture of height 2 inches
Diya to hold the cotton wick flame of height 1 inches
Two Bowls for haldi and kumkum of height 0.5 inches
Prasada container to hold the prasada or sweetmeat offering of height 1.25 inches
Weight: 350 gms

Puja ingredients shown are not sent.
Donation Amount :
Rs 1500/- or $ 21 USD
Tulsi & Shaligram Vivaha Vidhi
New Link
Click Here More New
Devotees Please Click Arrows Below for Quick Selection of"Shree Shaligrams"
Shaligram
Rudraksha
Dwarka Shila
Giri Govardhan Shila
Shankh
Aura
Parad
Meteorites
Murties & Idols
Yantras
Puja Items
CD's, DVD's & Books
Main Categories
View All Categories
Shaligram Water kit
Gandaki Water
Shaligram Water
Our Clients Temple
Click Here Payment Option
Click here for more Testimonials