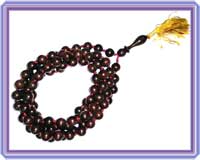 Product Name:
Red Sandalwood Mala-DEMAL005
Product Description: Red sandal beads strung in thread with knot. Smooth beads of high quality & original red sandalwood are hand crafted to make this beautiful mala of 108+1 beads.
Purpose -
Red sandal beads unfolds vibrant energy and gives bravery, strength and willpower.
Used for Japa of mantra of Goddess Gayatri and Surya mantras.
It is warming, improves circulation and protects from negative energy.
It is also helpful for indigestion and fever.
Attracts abundance and prosperity.
It soothes pitta dosha and helps one to conquer the senses.
Wearer of red sandalwood mala enjoys all comforts at his authority.
Suggested for Headache, Heart Diseases and Right Eye Defect.

Donation Amount :
Rs 1225/- or $ 18 USD
Tulsi & Shaligram Vivaha Vidhi
New Link
Click Here More New
Devotees Please Click Arrows Below for Quick Selection of"Shree Shaligrams"
Shaligram
Rudraksha
Dwarka Shila
Giri Govardhan Shila
Shankh
Aura
Parad
Meteorites
Murties & Idols
Yantras
Puja Items
CD's, DVD's & Books
Main Categories
View All Categories
Shaligram Water kit
Gandaki Water
Shaligram Water
Our Clients Temple
Click Here Payment Option
Click here for more Testimonials