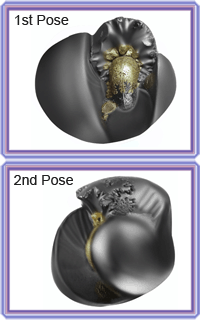 Product Name:
Sacred Adwaitya Chamunda Maha Kali Bhadra Kali Dasha Maha Vidya-EXMKL-1-1011
Product Code:
EXMKL-1-1011
Product Description: Kali (the Eternal Night), The first Mahavidya is Kali. Chamunda Roopa is for extreme protection against occult, Black magic and jealousy. "Kreem Kreem Kreem Hum Hum Hreem Hreem Dakshine Kaalika Kreem Kreem Kreem Hum Hum Hreem Hreem Swaha" It bestows the eight supernatural powers. This Maha Vidya represents Krishna as per the Tondla Tantra and rules the planet Saturn. The Shilas even protects the devotee from natural clamity also and protects the devotee against sudden accidents and thefts. Ma Kali fulfills all wishes of the devotee This Shila blesses the worshipper with very long life and extremely good health. The power of this Shilas also described in Skanda Puran is such that the living beings that are in the vicinity of these Shilas upto 123 Km diameter too get the benefits of these Shilas without even worshipping them. This Shaligram Shila bestows the devotee with very strong intuition and makes all six senses of the devotee to work with perfection. The worshipper can clearly see the future things happening. This Shila is exceptionally good for the meditation. This Shila is very cold to touch, full of positive energy and tremendous power, extremely protective in nature, blesses the devotee with extremely peaceful environment, provides immense worldly comfort and takes the devotee to spiritual enlightenment and transcendence.Dasha Maha Vidya is Dusky, beautiful browed, her three eyes like lotus, seated on a jewelled lion-throne, surrounded by gods and others serving her, holding in her four lotus-like hands a noose and a sword, a shield and a goad, thus I remember Dasha Maha Vidya, the giver of results, the Modini. Sri Dasha Maha Vidya Devi bestows siddhi of speech and promotes sangeet or music. Mantra: Om Hreem Sreem Vada-vadh Vaag Vaadinee Saraswati Mama Vidya Prasadam Kuru Do Swaha! She is the ninth Mahavidya. This Shila provides the devotee extreme protection and strong will to excel in all fields.

The Shila shown in picture will be sent.
The Shaligram will be sent after performing Mahapuja and energization.
Colour:
Golden & Jet Black
Dimension :
4.5cm x 3.5cm x 2.5cm
Donation Amount :
Rs 51000/- or $ 729 USD
Tulsi & Shaligram Vivaha Vidhi
New Link
Click Here More New
Devotees Please Click Arrows Below for Quick Selection of"Shree Shaligrams"
Shaligram
Rudraksha
Dwarka Shila
Giri Govardhan Shila
Shankh
Aura
Parad
Meteorites
Murties & Idols
Yantras
Puja Items
CD's, DVD's & Books
Main Categories
View All Categories
Shaligram Water kit
Gandaki Water
Shaligram Water
Our Clients Temple
Click Here Payment Option
Click here for more Testimonials