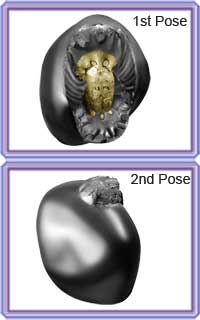 Product Name:
Sacred Adwaitya Golden Bhadra Kali Chamunda Maha Kali-EXMKL-1-1001
Product Code:
EXMKL-1-1001
Product Description: The first Mahavidya is Kali. Seated on a corpse, with long tongue protruding out, greatly terrifying, laughing loudly, with fearful fangs, four arms holding a cleaver, a skull, and giving the mudras bestowing boons and dispelling fear, wearing a garland of skulls, her tongue rolling wildly, completely naked (digambara - clad in the directions), with just a garland of demon-hands round her waist, with heaped locks of a black cascade of hair. Thus one should meditate on Kali, dwelling in the centre of the cremation ground. The Eternal Night - Kali is mentioned as the first amongst the Mahavidyas. Black as the night (ratri) she has a terrible and horrific appearance. The word ratri means "to give," and is taken to mean "the giver" of bliss, of peace of happiness. Chamunda Ma Kali blesses the worshipper like his son or daughter. Chamunda Roopa is for extreme protection against occult, Black magic and jealousy.

The Shila shown in picture will be sent.
The Shaligram will be sent after performing Mahapuja and energization.
Colour:
Golden & Jet Black
Dimension :
5.2cm x 4cm x 2cm
Product Amount :
Rs 45000/- or $ 643 USD
Tulsi & Shaligram Vivaha Vidhi
New Link
Click Here More New
Devotees Please Click Arrows Below for Quick Selection of"Shree Shaligrams"
Shaligram
Rudraksha
Dwarka Shila
Giri Govardhan Shila
Shankh
Aura
Parad
Meteorites
Murties & Idols
Yantras
Puja Items
CD's, DVD's & Books
Main Categories
View All Categories
Shaligram Water kit
Gandaki Water
Shaligram Water
Our Clients Temple
Click Here Payment Option
Click here for more Testimonials