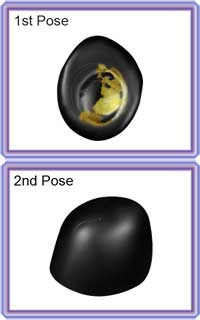 Product Name:
Sacred Adwaitya Golden Maha Laxmi Kunda -EXKUN1032
Product Description: Kund Shila represents the accumulation of good Karmas and deeds. The Shila has a small depression with in Him which signifies accumulation. The Shila has a depression inside and the Kund has beautiful impressions in the form dipak. The Kund Shila is generally not easily available and therefore the Shila is extremely rare to find. The Shila can also helps the devotee in accumulating huge wealth but at the same time changes the mind of devotees also to use this wealth for philanthropic and austere activities. The worshipper of Kund Shila pleases the Trinity that is Lord Brahma, Vishnu and Mahesh. The worshipper is a dignified person in the society with a very strong character. The worshipper becomes very charismatic and attracts everyone to him. Kund Shila provides protection to the worshipper and blesses him with all the worldly comforts. Every devotee should have at least one of this auspicious Shila. The Shila is extremely smooth, perfectly shaped, lustrous, small sized, cold to touch, has flawless impressions.

Benefits of worshipping Kund Shaligram:
- Helps in accumulating huge wealth
- For protection & worldly comforts
- For the blessings of Trinity which is Brahma Vishnu Mahesh

The Shila shown in picture will be sent.
The Shaligram will be sent after performing Mahapuja and energization.
Colour:
Golden & Jet Black
Dimension :
5.4cm x 4.5cm x 4cm
Donation Amount :
Rs 5100/- or $ 73 USD
Tulsi & Shaligram Vivaha Vidhi
New Link
Click Here More New
Devotees Please Click Arrows Below for Quick Selection of"Shree Shaligrams"
Shaligram
Rudraksha
Dwarka Shila
Giri Govardhan Shila
Shankh
Aura
Parad
Meteorites
Murties & Idols
Yantras
Puja Items
CD's, DVD's & Books
Main Categories
View All Categories
Shaligram Water kit
Gandaki Water
Shaligram Water
Our Clients Temple
Click Here Payment Option
Click here for more Testimonials