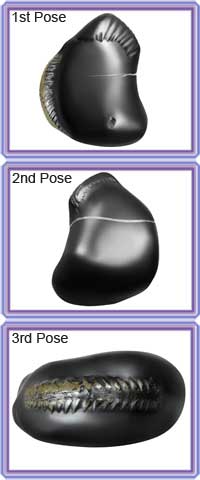 Product Name:
Sacred Adwaitya Golden Mahalaxmi Shweta Jeneyudhari Vaman Narayan-EXVMN1001
Product Description: Of the ten great incarnations, the fifth one is Vaamana, and the very name indicates One who has a small body. It was in the form of a child (child student in a gurukula) that Vaamana approached the divinely righteous Emperor Mahaabali to beg of him a little land, of the length of his tiny three steps-and the Lord measured in His three steps all the three worlds and thus conquered Mahaabali. He checked (Vamayati) the rising pride of possession in Bali, hence He, in that incarnation as a Vatu, is called Vaamana. The term Vaamana also means worshipful: Him, the Dwarf, sitting in the middle of the heart, all gods adore, so we read in the Kathopanishad (5-3). However, here the emphasis should be upon the meaning short statured because of the contrast it makes with the following name. Vamana pushed the demon Bali to patal lok with His feet, who had gained dominion over the Earth and had chased the Gods from the heavens. The worshipper of Vamana gets immense strength to fight against all odds, evils and enemies. His enemies do not get any place in the complete "Triloka" . He becomes invincible and take on any challenge which comes in his way and emerge out as a winner. He gains confidence and wisdom and is respected and recognized in his sphere of work. The worshipper of this Shaligrama is very successful in businesses pertaining to land, reality, Gold, metal, diamonds and precious gems. The worshipper of Vaman gets immense success without being much noticed. Nothing appears impossible to the worshipper to achieve. The Shila is extremely smooth, perfectly shaped, lustrous, small medium sized cold to touch, has flawless impressions.

Benefits of worshipping Exotic Vaman Shaligram:
- To gain confidence and wisdom
- Good for businesses pertaining to land, reality, Gold, metal, diamonds and precious gems
- For making lot of properties
- For construction of temples and restrooms
- For philanthropy and austerities

The Shila shown in picture will be sent.
The Shaligram will be sent after performing Mahapuja and energization.
Colour:
Jet Black & Golden
Dimension :
10cm x 7cm x 4.8cm
Product Amount :
Rs 36000/- or $ 514 USD
Tulsi & Shaligram Vivaha Vidhi
New Link
Click Here More New
Devotees Please Click Arrows Below for Quick Selection of"Shree Shaligrams"
Shaligram
Rudraksha
Dwarka Shila
Giri Govardhan Shila
Shankh
Aura
Parad
Meteorites
Murties & Idols
Yantras
Puja Items
CD's, DVD's & Books
Main Categories
View All Categories
Shaligram Water kit
Gandaki Water
Shaligram Water
Our Clients Temple
Click Here Payment Option
Click here for more Testimonials