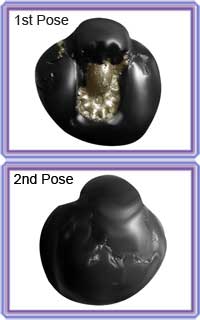 Product Name:
Sacred Adwaitya Shweta KamaL Laxmi Golden Bhadra Chamunda Mahakali-EXMKL-1-1025
Product Code:
EXMKL-1-1025
Product Description:

The Shila shown in picture will be sent.
The Shaligram will be sent after performing Mahapuja and energization.
Dimension :
4.1cm x 4cm x 3.2cm
Donation Amount :
Rs 51000/- or $ 729 USD
Tulsi & Shaligram Vivaha Vidhi
New Link
Click Here More New
Devotees Please Click Arrows Below for Quick Selection of"Shree Shaligrams"
Shaligram
Rudraksha
Dwarka Shila
Giri Govardhan Shila
Shankh
Aura
Parad
Meteorites
Murties & Idols
Yantras
Puja Items
CD's, DVD's & Books
Main Categories
View All Categories
Shaligram Water kit
Gandaki Water
Shaligram Water
Our Clients Temple
Click Here Payment Option
Click here for more Testimonials