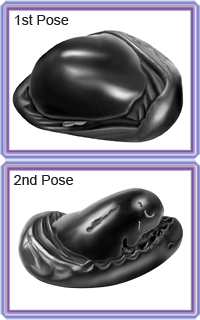 Product Name:
Sacred Adwaitya Ugra Matsya Narsimha Murti-EXNAR1152
Product Description: Narasimha is the fourth incarnation of Lord Vishnu. Narasimha or the Lion incarnation as a creature who was half-lion and half-man, Vishnu killed the demon Hiranyakashyap, brother of Hiranyaksha, who had gained the boon of immunity from attacks by man, beast or God. This is a very rare Shaligram as this is Narsimha The golden impressions inside the Shila if Narsimha are very clearly visible. One who worships Narsimha Shaligram gets immense protection from his enemies. The opponents and the enemies of the worshipper vanish and are sent to hell. No black magic or any type of occult works on him. He becomes fearless and gets success in all his endeavors. He can take on any challenge and emerge out to be a winner. His confidence level goes to a very high mark and is invincible. He enjoys immense wealth, health and remains always attached to the God. The Shila is extremely smooth, perfectly shaped, lustrous, small medium sized cold to touch, has flawless impressions.

Benefits of worshipping Sacred Adwaitya Narsimha Shaligram:
- For extreme protection against occult, black magic and jealousy from the negative persons
- For immense and continuous flow of wealth
- To attain moksha
- To get Bhakti Yog
- For philanthropy and austerities

The Shila shown in picture will be sent.
The Shaligram will be sent after performing Mahapuja and energization.
Dimension :
6.5cm x 4.2cm x 4cm
Product Amount :
Rs 36000/- or $ 514 USD
Tulsi & Shaligram Vivaha Vidhi
New Link
Click Here More New
Devotees Please Click Arrows Below for Quick Selection of"Shree Shaligrams"
Shaligram
Rudraksha
Dwarka Shila
Giri Govardhan Shila
Shankh
Aura
Parad
Meteorites
Murties & Idols
Yantras
Puja Items
CD's, DVD's & Books
Main Categories
View All Categories
Shaligram Water kit
Gandaki Water
Shaligram Water
Our Clients Temple
Click Here Payment Option
Click here for more Testimonials