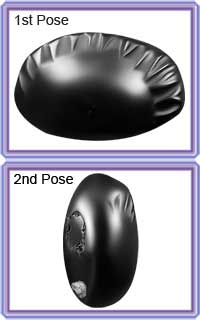 Product Name:
Sarvattam Laxmi Kuber Keshav-AUKSH1019
Product Description: Keshava as described by Lord Krishna means One who has long hair. But Kesas are the rays of the Lord that illumine the Sun, Moon and such other effulgent things of the Cosmos. The rays of mine that illumine (the Sun, etc.) are called Kesas. Therefore the wise Brahmins call Me, Kesava. Also Ka means Brahmaa, the Creator and Eesa means Siva, the Destroyer. Both of them have sprung from Vishnu, the Preserver, hence He is called Kesavah. This Shila has beautiful impressions of Vishnu, Surya and vertical impressions represent Keshav. The Shila is of Shankh shaped which grants worldly comforts to the devotee. The Keshava Shila bestows the devotee with immense wisdom and Charisma. He radiates light and energy from his well being and every one in the society is bound to be benefitted by the worshipper. Every devotee will be benefitted by worshipping this Shila. The Shila is extremely smooth, perfectly shaped, lustrous, small sized, cold to touch, has flawless impressions.

Benefits of worshipping Keshav Shaligram:
- For wisdom and Charisma
- For early marriage
- For removing all doshas and balancing of Chakras

The Shila shown in picture will be sent.
The Shaligram will be sent after performing Mahapuja and energization.
Dimension :
4.7cm x 3cm x 2.5cm
Donation Amount :
Rs 5100/- or $ 73 USD
Tulsi & Shaligram Vivaha Vidhi
New Link
Click Here More New
Devotees Please Click Arrows Below for Quick Selection of"Shree Shaligrams"
Shaligram
Rudraksha
Dwarka Shila
Giri Govardhan Shila
Shankh
Aura
Parad
Meteorites
Murties & Idols
Yantras
Puja Items
CD's, DVD's & Books
Main Categories
View All Categories
Shaligram Water kit
Gandaki Water
Shaligram Water
Our Clients Temple
Click Here Payment Option
Click here for more Testimonials