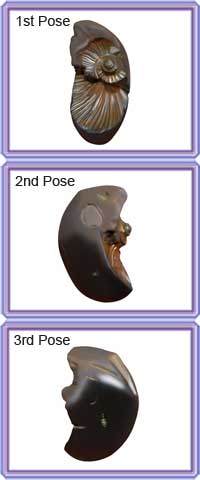 Product Name:
Sarvottam Shesha Laxmi Sudershan Dhanvantri Bhairav-EXBHI1016
Product Description: Bhairav is a fierce form of Shiva, He is connected to the Southern face. He relates to the Mahavidya goddess named Bhairavi who gives Lagna shuddhi (purification of the Ascendant). Lord Bhairava Shaligrama Shila purifies and protects the body of the worshipper. This Shaligram improves devotee s confidence and personality. Bhairav Shaligram removes the ill effects of malefic planets in the natal lagna or when natural malefics planets are transiting. Bhairav Shaligram worshipping is the first thing done in the morning and best the best time is just after the Sunrise. The worshipper gets a very sound sleep and insomnia is removed. Bhairav Shila is extremely protective in nature. No occult or black magic can effect the devotee. It bestows the devotee with great prosperity by removing obstacles in business and work.

Benefits of worshipping Exotic Bhairav Shaligram:
- Quick protection against the enemies and black magic / Nazar dosh / curses
- Effective for the people having Kaal Sarp Dosha
- Remove all hurdles/ obstacles and make life peaceful
- Controls the flow of wealth and helps in building assets
- Prevents thefts and losses from speculation, accidents
- Extreme protection
- Spirituality and Bhakti Yoga

The Shila shown in picture will be sent.
The Shaligram will be sent after performing Mahapuja and energization.
Dimension :
4.5cm x 2cm x 1.7cm
Product Amount :
Rs 5100/- or $ 73 USD
Tulsi & Shaligram Vivaha Vidhi
New Link
Click Here More New
Devotees Please Click Arrows Below for Quick Selection of"Shree Shaligrams"
Shaligram
Rudraksha
Dwarka Shila
Giri Govardhan Shila
Shankh
Aura
Parad
Meteorites
Murties & Idols
Yantras
Puja Items
CD's, DVD's & Books
Main Categories
View All Categories
Shaligram Water kit
Gandaki Water
Shaligram Water
Our Clients Temple
Click Here Payment Option
Click here for more Testimonials