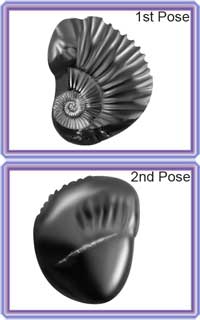 Product Name:
Sarvottam Sudershan Laxmi Shesha-AUSHS1007
Product Description: Shesh Nag, the serpent god, has been venerated and worshipped by many for centuries This Shila is extremely rare and highly auspicious. Ananta is that form where Lord Vishnu is resting on Shesha and Goddess Laxmi is sitting close to the lotus feet of the Lord. Ananta is also represented as one supporting the world on its hood. Black magic and occult does work on the worshipper and he remains healthy. This is very useful for the people having Kaal Sarp Dosha and worshiiping this Shila removes all hurdles and make life very peaceful and full of happiness. It prevents thefts, losses from speculation and accidents. The worshipper remains healthy and at his best physical health. The Shila is extremely smooth, perfectly shaped, lustrous, small sized, cold to touch, has flawless impressions.

Benefits of worshipping Shesh Naag Shaligram:
- To protect from Black magic and occult
- Useful for the people having Kaal Sarp Dosha
- Protect thefts, losses from speculation and accidents
- For Moksha and salvation

The Shila shown in picture will be sent.
The Shaligram will be sent after performing Mahapuja and energization.
Dimension :
2.8cm x 2cm x 1.3cm
Donation Amount :
Rs 2100/- or $ 34 USD
Tulsi & Shaligram Vivaha Vidhi
New Link
Click Here More New
Devotees Please Click Arrows Below for Quick Selection of"Shree Shaligrams"
Shaligram
Rudraksha
Dwarka Shila
Giri Govardhan Shila
Shankh
Aura
Parad
Meteorites
Murties & Idols
Yantras
Puja Items
CD's, DVD's & Books
Main Categories
View All Categories
Shaligram Water kit
Gandaki Water
Shaligram Water
Click Here Payment Option
Click here for more Testimonials