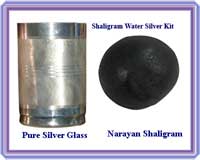 Product Name:
Shaligram Water Silver Kit
Product Description: As per Purana Sangraha when a dying person is made to sip a little of the water from Gandaki river or in which the Salagrama-stone is bathed, he will be freed from all sins, and will reach the heavenly abode of Vishnu. And death itself when it occurs in the presence of a Salagrama-stone will pave the way for Vishnu s realm, for Vishnu is present in that stone (Purana-samgraha). The rites of expiation of sins (prayaschitta) becomes effective more by drinking the Gandaki water or the water in which Shaligram stones are washed than by gifts or fasting or by observances of various kinds. In times of solar or lunar eclipse, whatever ritual is undertaken becomes all the more effective when done in front of a Salagrama-stone and Gandaki water so says Hemadri. Even the worst criminal who has committed countless sins will instantaneously get purified by sipping the Gandaki water or the water in which has been bathed/washed Salagrama Shilas

The Shila shown in picture will be sent.
The Shaligram will be sent after performing Mahapuja and energization.
Product Amount :
Rs 7500/- or $ 107 USD
Tulsi & Shaligram Vivaha Vidhi
New Link
Click Here More New
Devotees Please Click Arrows Below for Quick Selection of"Shree Shaligrams"
Shaligram
Rudraksha
Dwarka Shila
Giri Govardhan Shila
Shankh
Aura
Parad
Meteorites
Murties & Idols
Yantras
Puja Items
CD's, DVD's & Books
Main Categories
View All Categories
Shaligram Water kit
Gandaki Water
Shaligram Water
Our Clients Temple
Click Here Payment Option
Click here for more Testimonials