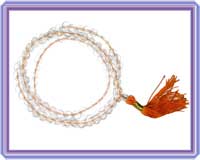 Product Name:
Sphatik Mala-DEMAL002
Product Description: Crystal is a natural gemstone and has power to retain the energy of mantra chanting. Crystals harmonise the aura around us and removes the negative energy, and gives peace of mind and coolness of body. It is beneficial for gaining knowledge of the past, present and future when used for concentration. Wearing a crystal mala ensures a sound and undisturbed sleep. Sphatik mala is best recommended for Japa of Goddess Laxmi.
Size of Bead- 7mm
Donation Amount :
Rs 510/- or $ 7 USD
Tulsi & Shaligram Vivaha Vidhi
New Link
Click Here More New
Devotees Please Click Arrows Below for Quick Selection of"Shree Shaligrams"
Shaligram
Rudraksha
Dwarka Shila
Giri Govardhan Shila
Shankh
Aura
Parad
Meteorites
Murties & Idols
Yantras
Puja Items
CD's, DVD's & Books
Main Categories
View All Categories
Shaligram Water kit
Gandaki Water
Shaligram Water
Our Clients Temple
Click Here Payment Option
Click here for more Testimonials