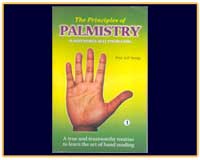 Product Name:
The Principles of Palmistry-2 Volume Set-BKA002
Product Description:
This work is a sincere effort for easing out the study Palmistry. The perfection in hand reading comes through clear cut comprehension of the laws of the hand reading, concentration of mind and a comparative study of various signs and formation of the hand. The colored hand prints included in the volume will facilitate the reader to comprehend the principles distinctively.
Donation Amount :
Rs 957/- or $ 14 USD
Tulsi & Shaligram Vivaha Vidhi
New Link
Click Here More New
Devotees Please Click Arrows Below for Quick Selection of"Shree Shaligrams"
Shaligram
Rudraksha
Dwarka Shila
Giri Govardhan Shila
Shankh
Aura
Parad
Meteorites
Murties & Idols
Yantras
Puja Items
CD's, DVD's & Books
Main Categories
View All Categories
Shaligram Water kit
Gandaki Water
Shaligram Water
Our Clients Temple
Click Here Payment Option
Click here for more Testimonials