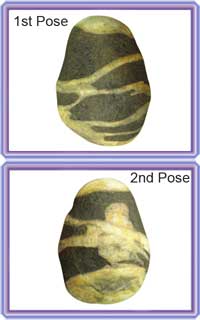 Product Name:
Tripurna Shivalinga Kailash Shila-KLS10
Product Description:
This Shila is extremely auspicious, immensely powerful and beautiful to look at. This powerful Shila has been collected from the Kailash Mansarovar during the prakrima of the Kailash mountain. The Shila has several white markings denoting the presence and Lord Shiva and Goddess Parvati. This Shila bestows the devotee with immense peace and extremely good environment in the house of the devotee. The worship of this Shila also tremendously improves the relationship between parents and children, amongst siblings, between relatives and neighbors. The Shila is extremely smooth, perfectly shaped, lustrous, small sized, cold to touch, has flawless impressions.
Dimension :
8.4cm x 5.7cm x 4cm
Donation Amount :
Rs 45000/- or $ 720 USD
Tulsi & Shaligram Vivaha Vidhi
New Link
Click Here More New
Devotees Please Click Arrows Below for Quick Selection of"Shree Shaligrams"
Shaligram
Rudraksha
Dwarka Shila
Giri Govardhan Shila
Shankh
Aura
Parad
Meteorites
Murties & Idols
Yantras
Puja Items
CD's, DVD's & Books
Main Categories
View All Categories
Shaligram Water kit
Gandaki Water
Shaligram Water
Click Here Payment Option
Click here for more Testimonials