We at Shaligram Shala do not suggest any kind of restrictions when wearing our Yantras or pendants. Literature on this subject is not authoritative and indeed sometimes sees mutually contradictory. What matters is the intention, faith and being true towards Yantra.
However, it is better to take off Yantras and pendants while having physical intimacy act. This is because the physic energies generated throughout the act may interfere with the spiritual energies in the Yantra. Moreover, when you visit a place where the person is dead, you should remove the Yantra because of the intense negativity around the area. However, for normal interaction, you do not need to remove these Yantras.
In addition, it is advised to keep the Pendent off while bathing, which will help in increasing the life of the plating.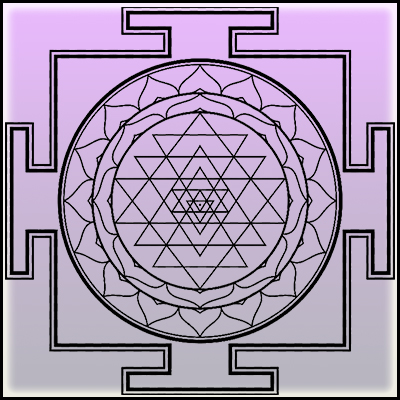 What are Yantras?
Yantras are spiritually defined geometrical figures, designed to represent basic energies in us. Similar to elementary geometrical figure, a straight line, a square, or a triangle etc., has a symbolic value; Yantras too symbolize one or the other divine energy. In broader sense, Vedic Yantras represent Mantras graphically. Yantras are usually drawn, engraved or painted on different items.

The most preferred tantrik surfaces are gold, silver, copper, crystal, birch, bone, hide (includes any type of paper), and Vishnu stone (shalagrama).

It is important to use Yantras on the level. If Yantras are drawn on paper, colors would be red, yellow, orange, or a combination of these three. There is no restriction in terms of size to draw. The two main types of Yantras are Bhu and Meru. Bhu is flat in design and two dimensional; while the Meru is of pyramidal form. While worshiping the both, they should be placed level on a pedestal or pitha. It is important to keep in mind that before the Yantra is used; the proper puja must be performed, to attain energy life (pranapratishta).

'Yantra' in Sanskrit is "yam" with a suffix "tra," where "tra" means instruments or tools. "Yam" means, "to gain control over the energy which isn't possible without any spiritual activity.

These Yantras have a huge spiritual significance, helping the user to achieve higher levels of consciousness. Yantra is a divine instrument, which helps to eliminate the psychic forces as the individual concentrates on specific pattern. The concentration becomes so intense that this pattern becomes reproduced by the worshiper's visual power.

According to Sri Swami Satchidananda, the great Indian religious teacher and spiritual master, a yantra is "a physical expression of a mantra - a mantra being a Divine aspect in the form of sound vibration - yantra in the form of a geometrical figure." So when an individual concentrates on mantras or divine ideas, certain images flashes out" and these images are then used in meditation or worship symbolizing certain divine ideas and quality (Satchidananda).

The Vedic Yantras carry certain energies helping to remove the negative energy to obtain a particular result e.g. to have a child, to keep the inflow of money, or to complete one's temper to enhance one's performance at work etc. Yantras carry mystical inscriptions of the afflicted beneficial planets, which work during particularly auspicious time, and gives desired results for which the person has worn or placed the Yantra. When you look at the Yantra, you will find that there are certain diagrams such as circles, triangles, squares and even a 'dot'. All these are cosmic energies. Of all the diagrams, a dot, also known as a bindu in Sanskrit represents all-pervading space-the origin of all that exists.

To keep the energy alive of Yantras, it is important to light a diya and incense every morning before the device. This procedure is very auspicious and blesses the individual for which the Yantra is placed.


Simple process to worship Yantras :
1. The very first thing to do is to take bath to purify self and be in positive mind frame.

2. Take the water on palm of your right hand and sprinkle it on yourself and on the Yantra but using a flower.

3. Wipe yantra with the soft and clean cloth and apply sandal paste on yantra also on your forehead.

4. Place fresh flower and fruit on the altar.

5. Light incense or oil lamp.

6. Once done, start the process of purifying your soul and surrender yourself completely to the god by chanting mantra for 21 times the mantra given for the specific Yantra

7. While chanting, sit in the straight posture, keep your eyes closed and concentrate on the deity for blessings. With complete sinerity and faith, ask God to grant for fulfilling your desire of life that you wanted to be. You can do this in your own language.

Every Yantra sent by us is packed nicely in a customized satin bag. You may use this bag while travelling along with the Yantra, or keep it in a cupboard. One bag can accommodate different Yantras. One bag will be sent as per the order. In case, you need extra bags, then you need to specify the same while placing your order, there is no extra cost involved. This bag is sent with all the yantras of 5 inches and above