Rules to wear Rudraksha | Procedure for wearing Rudraksha | When to wear Rudraksha | How to wear Rudraksha
1) Empower/Pran Prathistha rudraksha from a brahmin pandit in a Shiv temple and then wear your stimulated rudraksha unexpectedly after its Pran Prathistha puja.

2) Before you wear your rudraksh Bead mala for the first time ensure follow the vidhi of saying the mantras as set down in sacred writings.

3) When you eliminate or wear ur rudraksh (after its puja) say om-namah-shivay at least 3times or 11times . mansik jap is alright.

4) Rudraksha beads can be worn all time and scriptures are not written in any Taboo. Since it is a thing of energy a few people like to eliminate rudraksha during Sex, visit to burial service grounds and during defecations. This is not necessary and not written in ancient texts.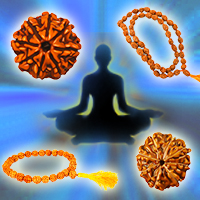 5) After you return from going attending someone's death funeral process. At that time the first thing you thought to do a complete bath. Ensure you wet your head,forehead and neck areas completely with water and wear rudraksh.
6) Ensure That there is no rahu kaal and yama ghat kaal at time of purchasing new mukhi rudraksh bead/mala and the hour of doing its Pran Prathistha puja and when you wear energised rudraksha bead/mala for the first time,do pls allude to panchang
7) Never contact rudraksha with dirty hand
8) Never contact rudraksha with pointer fingers
9) If unfortunately you touch your rudraksha with dirty then pour some amount of ganga jal on rudraksh and ask forgiveness and say sorry to lord shiva and then touch rudraksh to shiva photograph or shivling and then wear it,it is acceptable to keep ganga jal 1 or 2 jugs convenient at home
10) Shivratri, navratri, Mahashivratri and eclipse are the auspicious and favorable time to dharan this energised rudraksha.
11) Unfortunately you don't dharan/wear your rudraksh then keep it in a little box at puja place and offer every day namaskar with om-namah-shivay jap
12) We know we are human,so Sometimes mistakes may occur with rudraksh, then remember this mistake not occur again.
13) Always purchase rudraksh from ur own money and not other people money, or when u offer dakshana to panditji after rudraksh Pran Prathistha,in case in the event that u do obtain cash, at that point ensure that you return that money which you utilized for rudraksh.
14) Get ur rudraksh bead/mala re stimulated through its Pran Prathistha puja once in a year at maha shivaratri or shivratri
15) Use multiple strands of threads to make it strong,so the thread is unbreakable and rudraksha does not fall on the ground,so you have a strong thread to place the rudraksha.
16) When you dhran/wear rudraksha bead/mala then you dont able to exchange or interchanged.
17) Read more about rudraksh to increase your informatioly and not confused by reading such a large number of various sources
18) When you clean the the by brush ,then use one brush 1 time , every time use another new brush for clean the rudraksha.
19) Different amrit yog and siddhi yog timings showed in jyotish magazines and panchang,if one wishes then one could follow these timings for rudraksh puja or wear rudraksha(for first time) during these times
20) ALWAYS REMEMBER THE AMOUNT OF BENEFIT U GET FROM UR RUDRAKSH WILL ALSO DEPEND ON THE AMOUNT OF RESPECT and CARE U SHOW TOWARDS UR RUDRAKSH BEAD.RUDRAKSH IS LORD SHIVAOM NAMAH SHIVAH