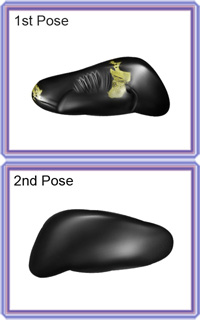 Product Name:
Sarvottam Golden Surya Narayan Rohitah Mastya-AURTS1034
Product Description: This Shila is very exotic, powerful, extremely attractive, brilliant, auspicious, emits very high radiance and has an extra ordinarily high energy levels.The term Rohita means fish, and this name has come to indicate Lord Vishnu because of His first incarnation as the Fish. When the entire world was submerged in the waters of the deluge, the only living creatures that were available at that time could only be fishes. Lord could incarnate at that time only in the form of the Fish. Therefore, here the term means One who had manifested to serve the living creatures as the Fish among the fishes. This Shila is extremely powerful and great amount of wealth will be handled by the worshipper where this Shila is present. The Shila is extremely smooth, perfectly shaped, lustrous, small sized, cold to touch, has flawless impressions.

The Shila shown in picture will be sent.

The Shila shown in picture will be sent.
The Shaligram will be sent after performing Mahapuja and energization.
Colour:
Golden & Jet Black
Dimension :
5.3cm x 2cm x 1.2cm
Donation Amount :
Rs 3600/- or $ 51 USD
Tulsi & Shaligram Vivaha Vidhi
New Link
Click Here More New
Devotees Please Click Arrows Below for Quick Selection of"Shree Shaligrams"
Shaligram
Rudraksha
Dwarka Shila
Giri Govardhan Shila
Shankh
Aura
Parad
Meteorites
Murties & Idols
Yantras
Puja Items
CD's, DVD's & Books
Main Categories
View All Categories
Shaligram Water kit
Gandaki Water
Shaligram Water
Our Clients Temple
Click Here Payment Option
Click here for more Testimonials