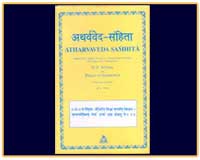 Product Name:
Atharvaveda Samhita - 3 volume set-BKA019
Product Description: The Atharva Veda is the last of the Vedas. It gives a better idea of the life of common people in Vedic times. It has popular magic spells which are outside of the strictly ritual-knowledge orientation of the other Vedas. Rudra-Shiva assumes a more visible role in this Veda.
The book contains Sanskrit text with English translation and notes for easy reading.
Donation Amount :
Rs 3255/- or $ 47 USD
Tulsi & Shaligram Vivaha Vidhi
New Link
Click Here More New
Devotees Please Click Arrows Below for Quick Selection of"Shree Shaligrams"
Shaligram
Rudraksha
Dwarka Shila
Giri Govardhan Shila
Shankh
Aura
Parad
Meteorites
Murties & Idols
Yantras
Puja Items
CD's, DVD's & Books
Main Categories
View All Categories
Shaligram Water kit
Gandaki Water
Shaligram Water
Our Clients Temple
Click Here Payment Option
Click here for more Testimonials