Consultation & Recommendations:
Rajeev Singhal Ji
hold three Engineering degrees and various certifications in Engineering and Occult Sciences. His 20 years of experience has made him a known personality in occult field and is very famous among actors, politicians, bureaucrats, corporate leaders and senior government officers. He is a world renowned Aura and Chakra Therapist ( he does aura analysis with the most technologically advanced machine on appointments), He is a Rudraksha Therapist of world's repute, Parad Scientist (only very few people in the world knows to solidify Parad by 8 Samskar and using herbs, maker of biggest parad Shivalingams in the world), Designer of Yantras, Maha Yantras, Meru, 3 D yantras. He gives best recommendations on the usage of Yantra and Maha Yantra in home and offices, Renowned Gemologist and superior recommender of the Gems, Gives Accurate Recommendation for Puja Services based on the chakra imbalance or astrological charts, horoscope, Designer and Consultant of home temples along with Gods and Goddesses idols as per Vastu Shastra, Vastu Shastri of Highest Repute, Well known Astrologer who correctly predicts the future , Planetary Doshas and suggest most suitable remedies including Pujas, Rudraksha, Shaligrams, Gems, Parad, Yantras etc. Recommender of Dwarka Shilas, Giri Govardhan Shilas, Shankhs, Meteorites and puja items. His consultation has changed lives of lakhs of devotees in the Last Two decades, get his recommendations and change your life too.
Read More
If you are aspiring for the next Level in Life you must view all the Shaligram Shala products especially Rajeev Krishna Rudraksha and Parad Therapy (RRPT) products for-

- Personal and Professional Growth
- Getting happier relationships
- Holistic & Good Health
- Continuous flow of wealth
- Protection from Evils, Negativity, Black Magic
- Attainment Enlightenment and Moksha
- Good Education for the Children
- Early Marriage with a Perfect Life Partner - Settlement of the Children at good place
- Going Abroad and getting Settle there
- Purchasing of good House or Flat of choice
- Purchasing of good Car, Diamonds and Jewellery
- Getting Richer by Speculative Business
- Preventing Thefts and Accidents

If you are suffering from recurrent health issues like Back Pain, Knee Pain, Body Aches, Headaches, Migraine, Sinus, Diabetes, Heart Blockages, Kidney Stones, Blood related Disorder, Cancer, Herpes, Skin Problems, Hair fall, Thyroid, Neck Pain, and other health related issue then you are at the right place and in safe hands.
Have you ever experienced any of the challenges given below

- Inability to concentrate
- Making poor judgments
- Having difficulty in remembering
- Negative thinking
- Forgetfulness
- Irritability
- Feelings of hopelessness
- Suicidal Tendencies
- Unknown Fears
- Unable to do time management
- Worked up and Stressed
- Unable to cope up with the present challenges
- Fear of any Mishappening in Life
- Fear of Death
- Fear of Losing Near and Dear one
- Feeling of betrayal from Partners and Friends

Have you ever felt stuck in your personal or professional life? Then we have a solution for you. All the above symptoms indicate that one or more of your chakras (energy centres points on your spinal chord) is blocked and you need to cleanse and balance those chakras. Rajeev Singhal ji will help in making you realise the chakras by power Pranayam and kriya yog.
Here we invite you to get in touch for a personal consultation at Shaligram Shala where, Mr. Rajeev Singhal ji will determine which Chakra of yours is blocked or imbalanced and needs attention. He will help you to achieve Good Health, Empowerment and Exponential growth and success.

Rajeev Krishna Dasa Ji "Initiated" in Gaudiya Sampradaya at Mayapur. Being a Lord Krishna Bhakt he has a special love for the cows. Rajeev Singhal ji is a renowned healer. He is specialised in a long distance healing which was bestowed upon him directly by the Universal Consciousness. Any devotee across the world can call him on his personal mobile number + 91 9322646421 or 20 and tell him about his problem, Rajeev Singhal Ji will heal the caller or devotee on the phone itself by his Activated "Anandgandh" Chakra. The devotee has to hold the phone for couple of minutes till the healing is completed. The approximate healing time will be 2 to 7 minutes.

Rajeev Singhal ji will do the healing FREE for the first time for any devotee client and subsequently the healing process will be charged Rs. 1500 or 21 USD. This donation would be used for the welfare and looking after the COWS.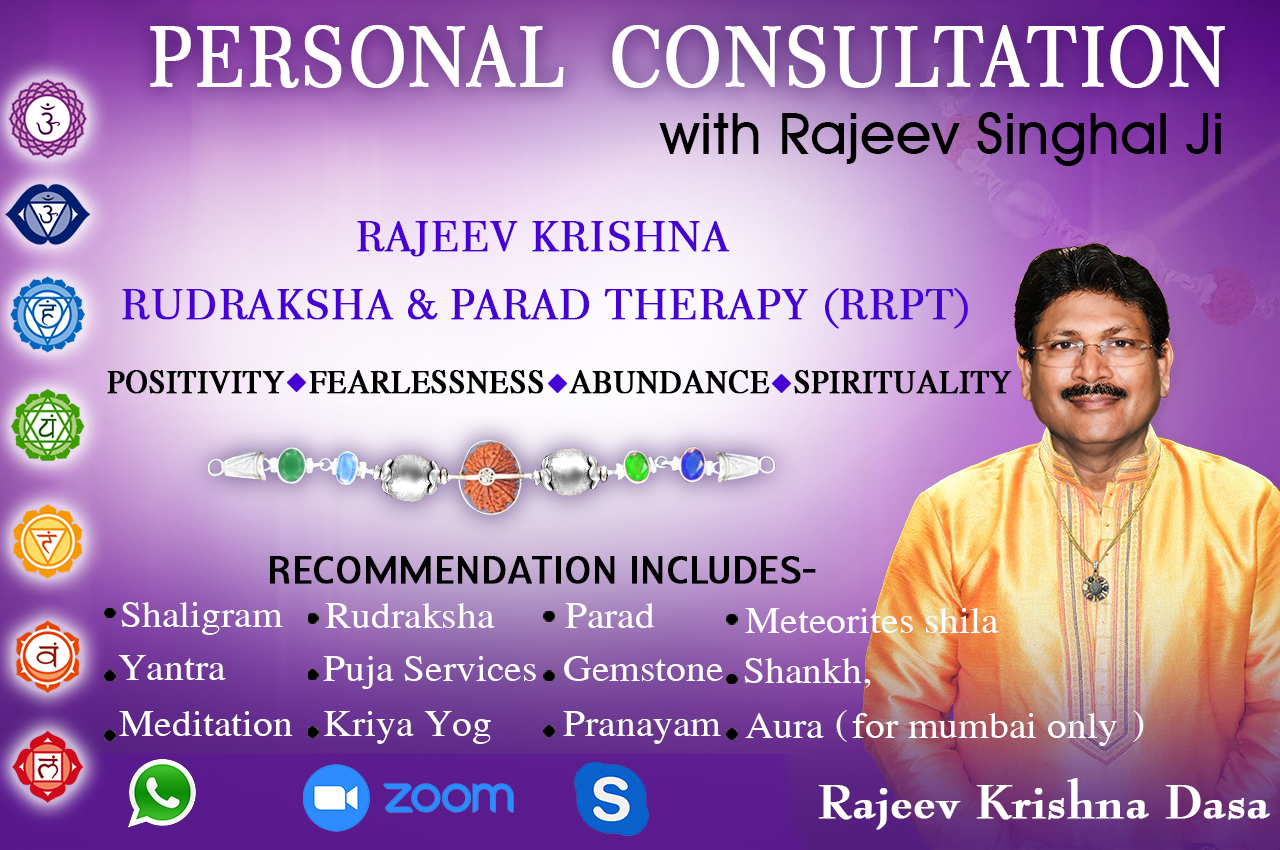 In personal counselling you will find out the root cause of your problems with Mr. Rajeev Singhal Ji and get a detailed Chakra Analysis Report and Astrological Report. He will also explain to you about the Meditation, Kriya Yog, Power pranayam for enhancing the specific chakras of yours. In the detailed Chakra Analysis Report there will be also mentioned the effective recommendations for you like Gemstone, Rudraksha, Shaligram, Yantra, Parad & customized puja. You may use Zoom, Skype or WhatsApp audio/ video call for Personal Counselling with Rajeev Singhal Ji.

Amount Payable:
Rs 2100 INR
Consultation Time:
45 Minutes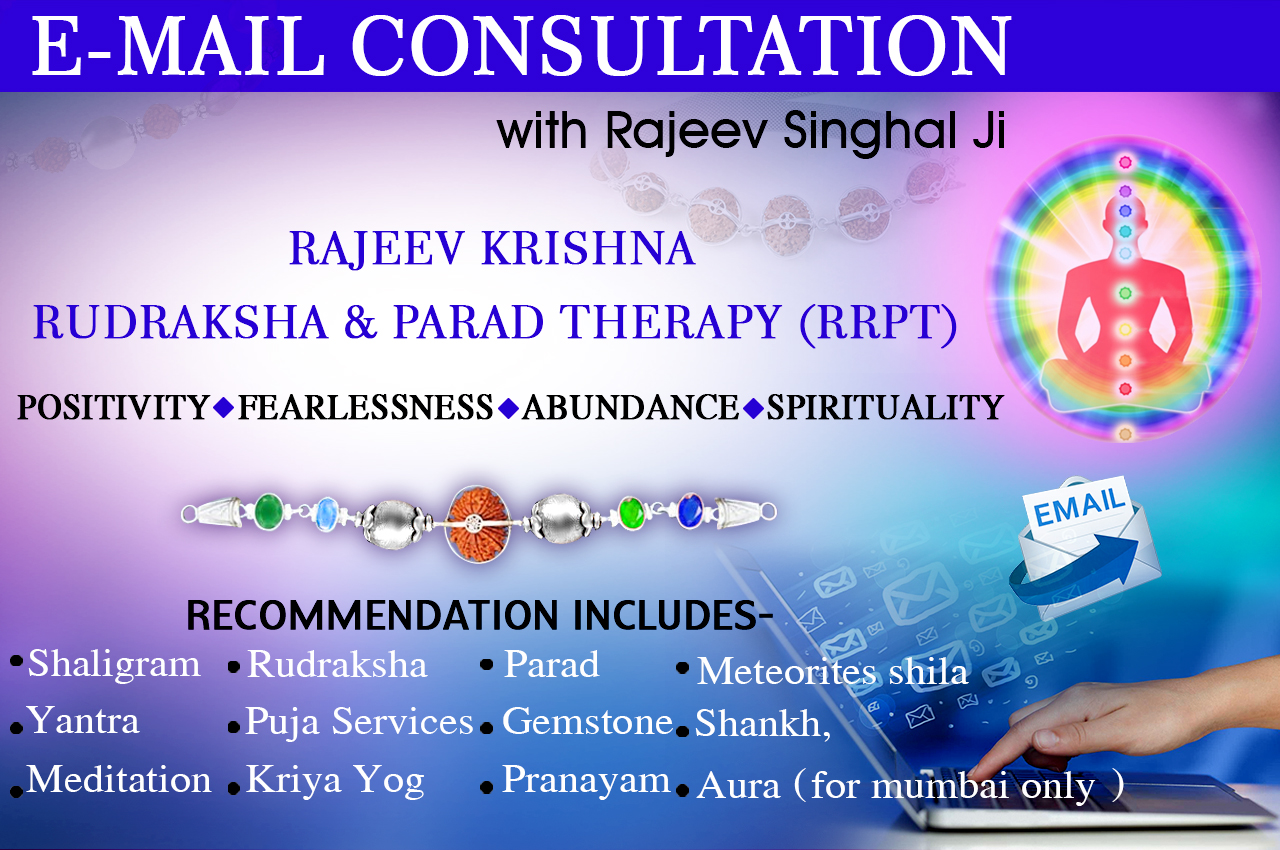 In the email consultation with Rajeev Singhal Ji, you will find out why you are facing obstacles and know the actual reasons of the problems you are facing in your life. In order to get the detailed report you need to fill up a simple form. After filling the form, you will get your Aura Chakra analysis report, Astrological Life Chart and interpretation of different facets of your life via email. In the detailed Chakra Analysis Report there will be also mentioned the effective recommendations for you like gemstone, rudraksha, shaligram, yantra, parad & customized puja.

Amount Payable:
Rs 2100 INR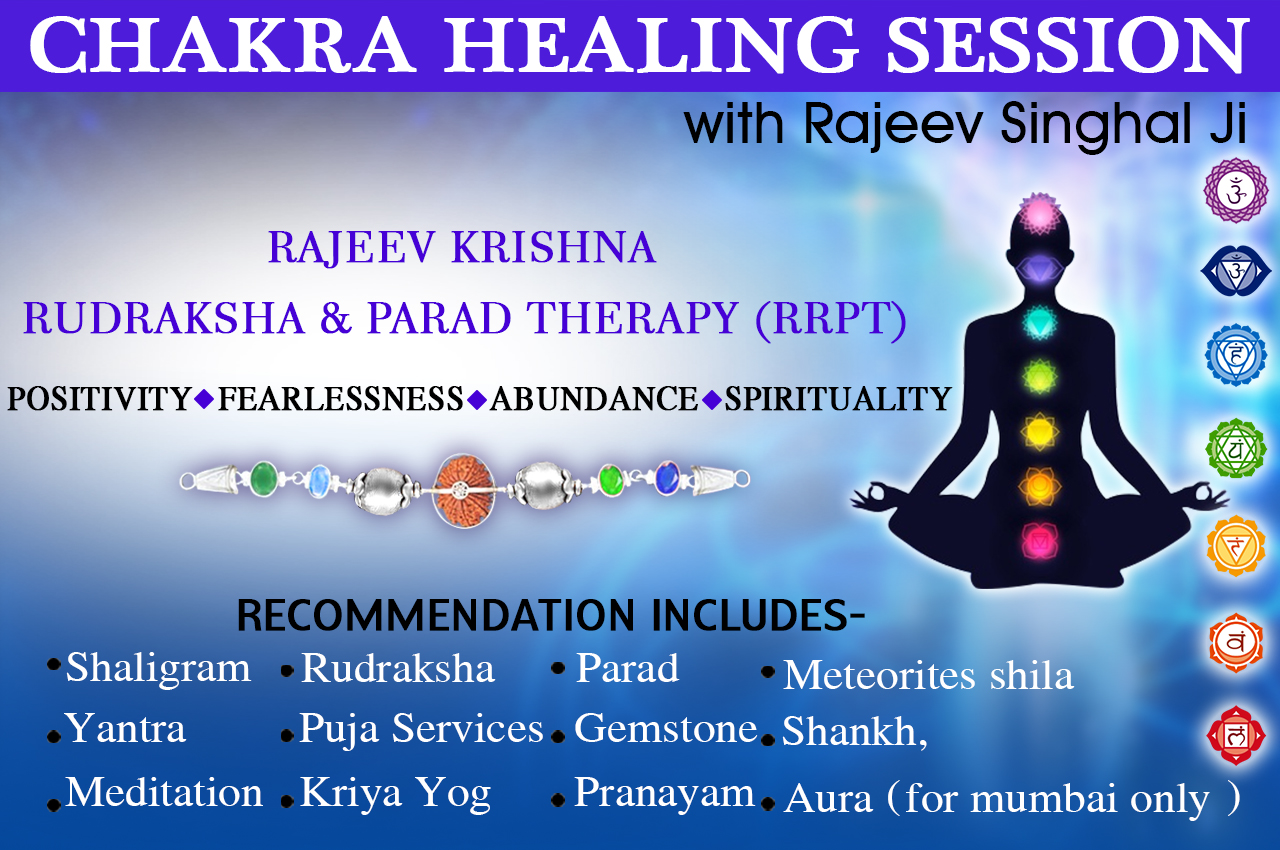 During this session, Mr. Rajeev Singhal Ji releases all your fears and limitations with sudarshan chakra kriya for invoking kundalini, chakra realization by power pranayam, affirmations (Theeta Healing) and Marjan kriya. It helps you to use your full potential at personal & professional level. You will also get the effective recommendations suitable for you like gemstone, rudraksha, shaligram, yantra, parad & customized puja.

Amount Payable:
Rs 9500 INR
Puja Services Recommendation From Rajeev Singhal
In Puja Services Recommendation From Rajeev Singhal, you will get a detailed analysis report of your astrological chart with dosha, dasha, malefic & benefits planets. Rajeev Singhal Ji, will study your chart and recommend the best remedies for you like suitable mantras to be chanted for your benefits and customized pujas most suitable for you.

Amount Payable:
Rs 2100 INR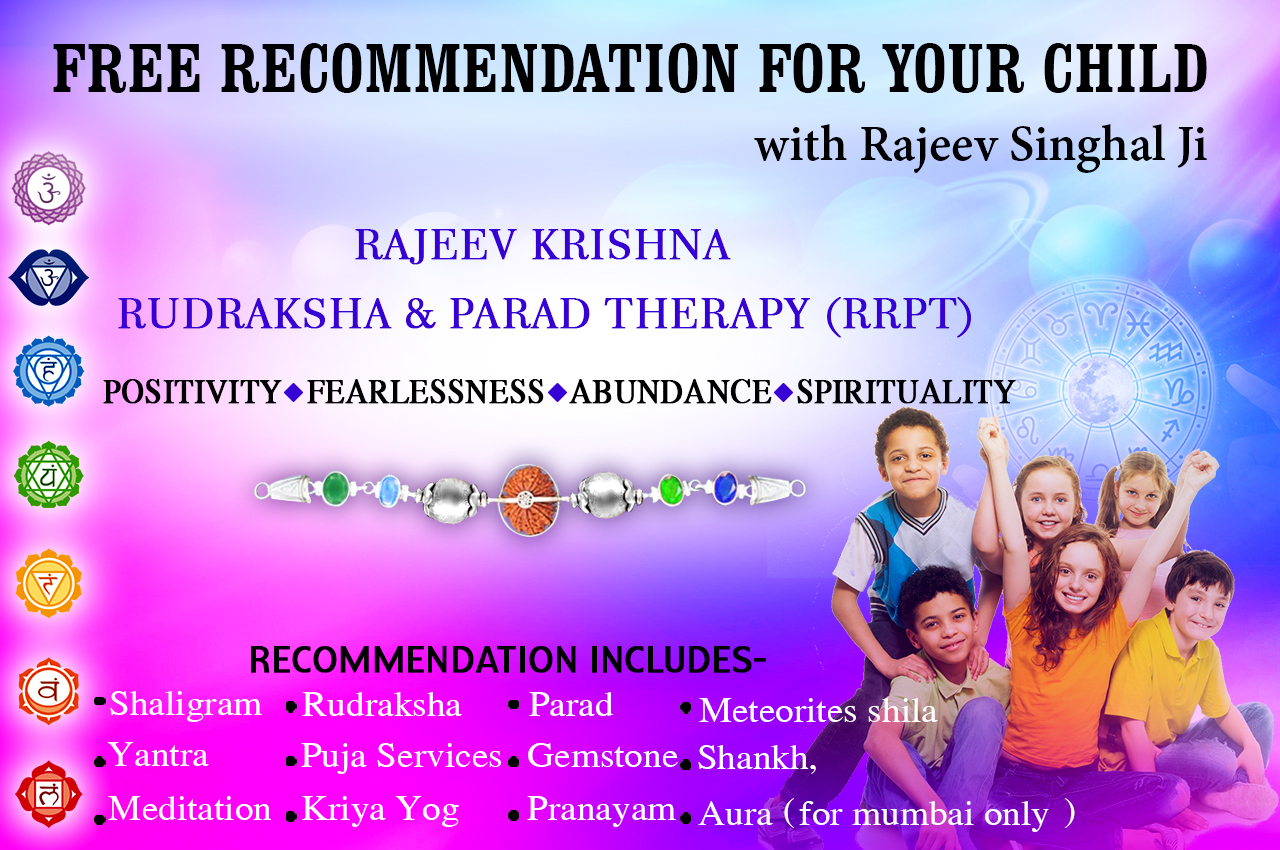 Free Recommendation From Rajeev Singhal For Your Child
In the free recommendation you will get a short chakra analysis report & a short report of horoscope via email. In this analysis Report there will be also mentioned the effective recommendations for your child.

Amount Payable:
Free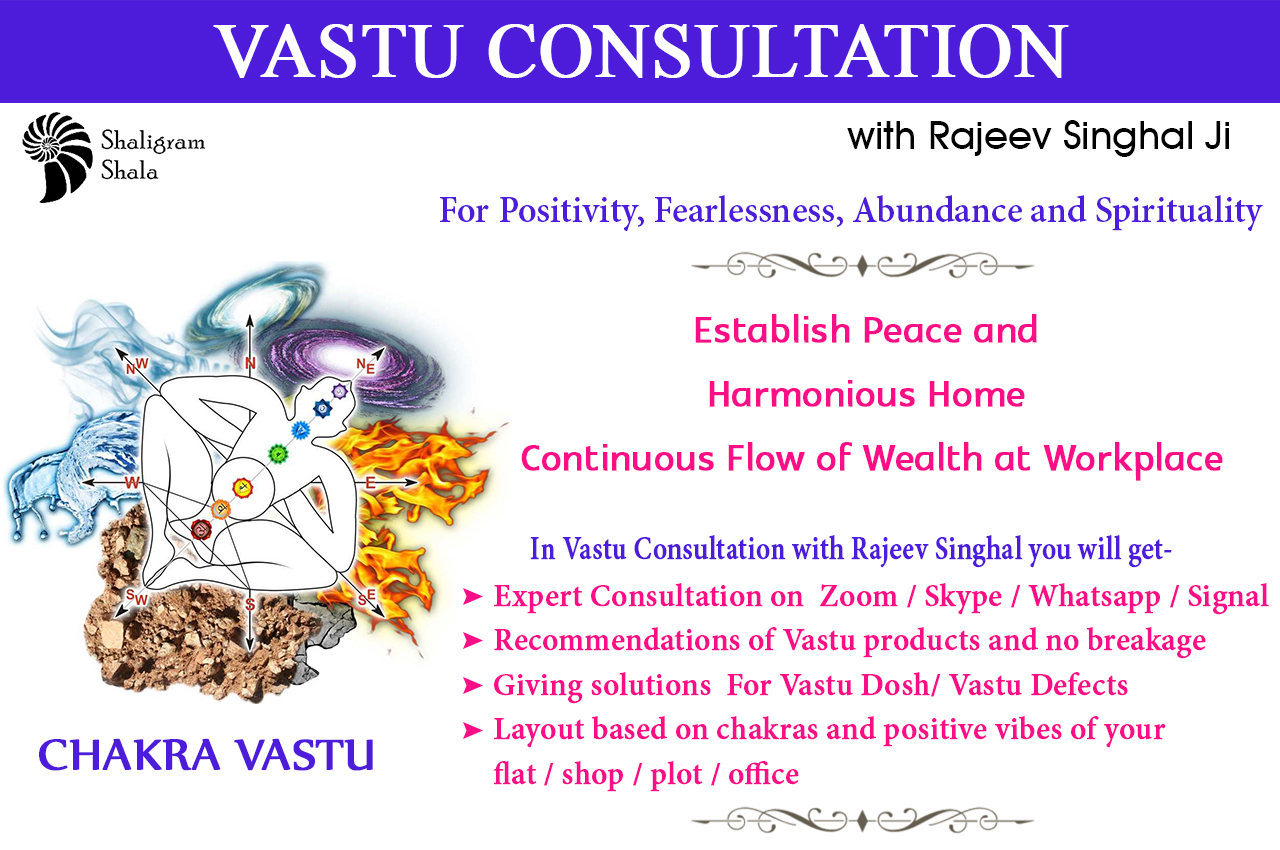 During this session, you will get yourself an expert (Mr. Rajeev Singhal Ji) consultation (E-mail or Phone) on remedies for Vastu doshas / defects, energized Vastu products and rectifying Vastu dosh for home, plot, flat and office.

Amount Payable:
2100 INR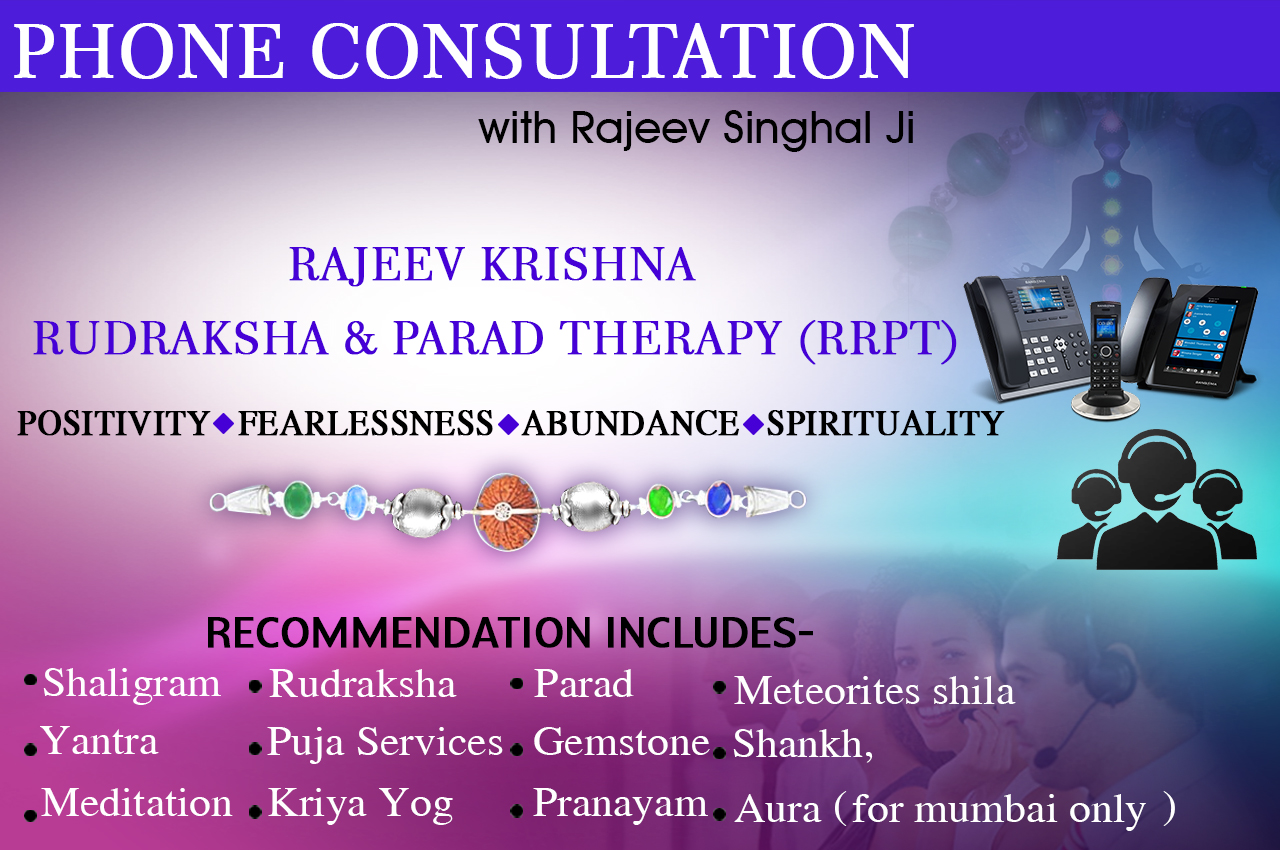 During this phone consultation session, you can discuss your problems related to health, personal and professional blocks and get your Chakras analyzed report with effective RRPT (Rajeev Singhal Rudraksha & Parad Therapy) recommendation.

Amount Payable:
Rs 2100 INR
Consultation Time:
10 Minutes