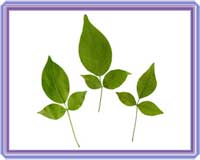 Product Name:
Bel Patra-PSMG002
Product Description: Bel Patra - 27 Leaves
As per Shiv Purana, Bel Patra is one of the six compulsory articles used in the worship of Lord Shiva on the day of Mahashivratri. Bel or Bilva leaves are one of the favorites of Lord Shiva. The Bel Patra is widely used in worship of Lord Shiva Lingam especially in a trifoliate form, which symbolizes Trikaal or the Trinity of Brahma, Vishnu and Mahesh and also Trinetra or three eyes of Lord Shiva. Once when Lord Brahmaji was asked about the easiest method to please Lord Shiva, He replied that for Lord Shiva, 100 lotus flowers are equal to 1 Neelkamal and 1000 Neelkamals are equal to 1 Belpatra. Thus, Bel Patra is the easiest way to worship and please Lord Shiva.
Donation Amount :
Rs 60/- or $ 1 USD
Tulsi & Shaligram Vivaha Vidhi
New Link
Click Here More New
Devotees Please Click Arrows Below for Quick Selection of"Shree Shaligrams"
Shaligram
Rudraksha
Dwarka Shila
Giri Govardhan Shila
Shankh
Aura
Parad
Meteorites
Murties & Idols
Yantras
Puja Items
CD's, DVD's & Books
Main Categories
View All Categories
Shaligram Water kit
Gandaki Water
Shaligram Water
Our Clients Temple
Click Here Payment Option
Click here for more Testimonials