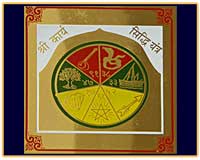 Product Name:
Energized Shree Karya Siddhi - YT07
Product Description: A powerful yantra combination for fulfilling all desires that are put in front of the Yantra .

A combination of 4 most powerful yantras for obtaining success in all endeavors made in thick shining copper sheet:
Shri Karyasiddhi, Manokamna Siddhi, Sarvamanokamna Prapti, Shri Sarvakarya Bisa Yantras.

Purpose:
To changes ones luck for the better, brings about desirable outcomes and makes manifest ones deepest desires.
To enhance knowledge, confidence, wisdom and family progress in the present & future.
For favors from superiors and getting power, authority & finances.
For courage against all odds and ensuring success in practically everything one does.
It also kick-starts spiritual practices in many people as an agreeable side-effect.

Dimension :
5inch x 5inch
Donation Amount :
Rs 1451/- or $ 21 USD
Tulsi & Shaligram Vivaha Vidhi
New Link
Click Here More New
Devotees Please Click Arrows Below for Quick Selection of"Shree Shaligrams"
Shaligram
Rudraksha
Dwarka Shila
Giri Govardhan Shila
Shankh
Aura
Parad
Meteorites
Murties & Idols
Yantras
Puja Items
CD's, DVD's & Books
Main Categories
View All Categories
Shaligram Water kit
Gandaki Water
Shaligram Water
Click Here Payment Option
Click here for more Testimonials