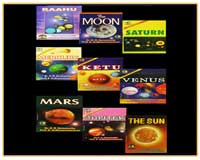 Product Name:
Nine Stars in Astrology - 9 volume set-BKA012
Product Description: In Hindu mythology, there are different narratives regarding the importance of these stars in the universe. Each book of the series explains a narrative related to the birth of the star and its attaining the status of godhood through four-colour attractive illustrations.
The book also contains the modes of their worship and the mantras to pacify and propitiate them.
Donation Amount :
Rs 957/- or $ 14 USD
Tulsi & Shaligram Vivaha Vidhi
New Link
Click Here More New
Devotees Please Click Arrows Below for Quick Selection of"Shree Shaligrams"
Shaligram
Rudraksha
Dwarka Shila
Giri Govardhan Shila
Shankh
Aura
Parad
Meteorites
Murties & Idols
Yantras
Puja Items
CD's, DVD's & Books
Main Categories
View All Categories
Shaligram Water kit
Gandaki Water
Shaligram Water
Our Clients Temple
Click Here Payment Option
Click here for more Testimonials