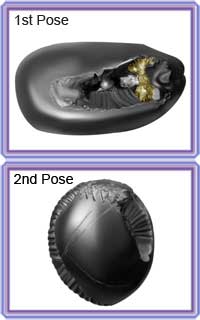 Product Name:
Sacred Adwaitya Golden Shailputri Navdurga-EXNDG-1-1001
Product Code:
EXNDG-1-1001
Product Description: Shailputri..... Navratri commences with the 1st night devoted to the puja of Meri Maiya Shailputri. Shail means mountains; Parvati, the daughter of king of Mountains Himavan, is known as "Shailputri". Her 2 hands, display a trident and a lotus. SHE is mounted upon a bull. Her mantra is 'Shri Shailputri Durgaayai Namah' and the other mantra is "Om aim hring kleem chamundayi vichche". Mother goddess Sailaputri has a half moon in her forehead; she is mounted on the bullock and holds a lance in her hand. This Nav Durga represents Bhuvaneshvari Maha Vidya. She rules planet Moon. She represents Vaman Dev as per the Tondala Tantra.The first form of mother Durga among the nine is Sailaputri. She is known as such, because she has incarnated from Himalaya the Emperor of mountains. Mounting a bullock the mother has a lance in her right hand and the lotus flower in the left. She is the first one among the nine aspects of Durga. On the first day of Navratra worship it is she who is worshipped. In this puja of the first day Yogi's keep their mind concentrated on Muladhara. This is the starting point of their spiritual discipline. The Shaligram Shila has very beautiful golden impressions representing moon impressions, lotus and very deep and intense Chakras. This Shila bestow the devotee with extreme philanthropy, severe penance capabilities and deep meditation. This Shila is very protective by nature and work against black magic, occult and other negative forces and eradicate them totally from the lives of the devotees. This Shila is exceptionally good for the meditation. These Shilas are very cold to touch, full of positive energy and tremendous power, extremely protective in nature, blesses the devotee with extremely peaceful environment, provides immense worldly comfort and takes the devotee to spiritual enlightenment and transcendence.

Ruling Planet: Mercury
Mantra: "Om aim hring kleem chamundayi vichche"
Colour:
Jet Black & Golden
Dimension :
7.3cm x 5.9cm x 3.2cm
Product Amount :
Rs 36000/- or $ 514 USD
Tulsi & Shaligram Vivaha Vidhi
New Link
Click Here More New
Devotees Please Click Arrows Below for Quick Selection of"Shree Shaligrams"
Shaligram
Rudraksha
Dwarka Shila
Giri Govardhan Shila
Shankh
Aura
Parad
Meteorites
Murties & Idols
Yantras
Puja Items
CD's, DVD's & Books
Main Categories
View All Categories
Shaligram Water kit
Gandaki Water
Shaligram Water
Our Clients Temple
Click Here Payment Option
Click here for more Testimonials