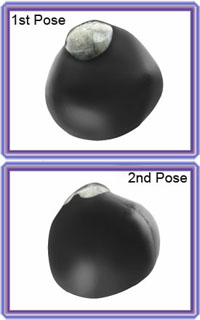 Product Name:
Sacred Adwaitya Shweta Govind Narayan Hiranyagarbha-EXHGB1032
Product Description: One who dwells in the womb (garbha) of the world (Hiranya). The Upanishad declares: "All these are in-dwelt by the Lord." The "Golden Universe" is an idiom in Sanskrit where gold means "objects of fulfilment and joy". One who dwells in them all is Hiranyagarbhah. The term can also mean as He who, having become first the Creator, has come to be considered as the womb of all objects. Hiranyagarbhah is the term used in the Vedanta for the "creator". He is the expression of the creative urge of the lord Narayana. "The Golden-egg" means here that from which all the objective world had emerged out, indicating the creator." The term thereby suggests that the entire creative power of the creator is but the expression of the Self, Narayana. The Hiranyagarbha Shaligram Shila is considered very powerful Shila and is related to the creator of this Universe. The worshipper is blessed with the cosmic energies which change the life of the devotee as per his wishes. The devotee is linked to the super consciousness of the transcendental. The worshipper remains detached yet enjoys the materialistic world. The Shila is extremely smooth, perfectly shaped, lustrous, small sized, cold to touch, has flawless impressions.

Benefits of worshipping Exotic Hiranyagarbha Shaligram:
- To change the life of the devotee as per his wishes
- For Bhakti yoga and spirituality
- For connection with the transcendence
- For Moksha and Salvation

The Shila shown in picture will be sent.
The Shaligram will be sent after performing Mahapuja and energization.
Dimension :
3cm x 3cm x 2.5cm
Donation Amount :
Rs 7500/- or $ 107 USD
Tulsi & Shaligram Vivaha Vidhi
New Link
Click Here More New
Devotees Please Click Arrows Below for Quick Selection of"Shree Shaligrams"
Shaligram
Rudraksha
Dwarka Shila
Giri Govardhan Shila
Shankh
Aura
Parad
Meteorites
Murties & Idols
Yantras
Puja Items
CD's, DVD's & Books
Main Categories
View All Categories
Shaligram Water kit
Gandaki Water
Shaligram Water
Our Clients Temple
Click Here Payment Option
Click here for more Testimonials