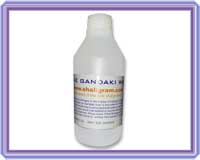 Product Name:
THE LEGEND OF WATER FROM GANDAKI RIVER-100ml-GK02
Product Description: The River Gandaki is flowing from upper Himalaya mountain RANGES and in her Garbha millions and millions of Shaligrams have lived from the time immemorial. The medicinal effects of the water from the Gandaki river are immense and need no emphasis as a lot has been said about the good effect of Shilagram Shila water on our body in our mythological texts. Not only that the water is good for stomach problems, ulcers, thyroid, blood pressure, kidney problems, gall bladder and many more but the water has such powerful qualities that it purifies of the whole body spiritually ( as if our souls are taking bath from this pious water and getting purified), and its consumption definitely increases the positive Karmas as mentioned in few of Shlokas below. If a small quantity of water from Gandaki river is consumed every day, the devotee is blessed with very good health and spiritual and transcendental growth. This water is also used by the devotees who worship Shaligrams daily and the legend of this water is equals the Ganga Jal in all the Religious Pujas, Abhishek and Yajnas. The water from Gandaki river commands a high value in Indian culture. The purity and good effects of any religious ceremony is enhanced when this water is used.

Weight:100 ml
Donation Amount :
Rs 580/- or $ 8 USD
Tulsi & Shaligram Vivaha Vidhi
New Link
Click Here More New
Devotees Please Click Arrows Below for Quick Selection of"Shree Shaligrams"
Shaligram
Rudraksha
Dwarka Shila
Giri Govardhan Shila
Shankh
Aura
Parad
Meteorites
Murties & Idols
Yantras
Puja Items
CD's, DVD's & Books
Main Categories
View All Categories
Shaligram Water kit
Gandaki Water
Shaligram Water
Our Clients Temple
Click Here Payment Option
Click here for more Testimonials