Big Shaligram
Big Shaligrams Shilas are worshipped in the temple as well as in the houses. There was a belief that bigger Shaligrams can only be worshipped in the temples but now hundreds of devotees are worshipping medium and big Shaligrams Shilas in their Altar at homes and work places. These devotees have been immensely benefitted by worshipping bigger Shaligrams either in the temples or in their Altars. Since the bigger Shaligrams have clear impressions they look very exotic and beautiful. They remove negativity and brings immense peace, prosperity and protection in the homes of devotees. The Big Shaligram Shilas naturally form the shape of a Shivalingas. There are several Murtis which are made up from Shaligram stones. The famous image of vishnu in the Himalayan Badri- Nath is said to be carved out of a Shaligrama, as also the image of Krishna in Udupi (in Karnataka). During the image changing ceremony in Puri-Jaganath, the Salagrama stone is the essence that is concealed within the main wooden icon of Jagannatha. A Shalagrama-stone officiate as the Snapana-Murti [icon for bathing] in the Shrine of Nath-Dvara. Big Shaligrams are normally available in several colours like black, blue, wh....
Read More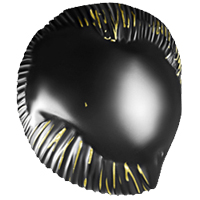 Exotic Big Shaligram
Tulsi & Shaligram Vivaha Vidhi
New Link
Click Here More New
Devotees Please Click Arrows Below for Quick Selection of"Shree Shaligrams"
Shaligram
Rudraksha
Dwarka Shila
Giri Govardhan Shila
Shankh
Aura
Parad
Meteorites
Murties & Idols
Yantras
Puja Items
CD's, DVD's & Books
Main Categories
View All Categories
Shaligram Water kit
Gandaki Water
Shaligram Water
Our Clients Temple
Click Here Payment Option
Click here for more Testimonials