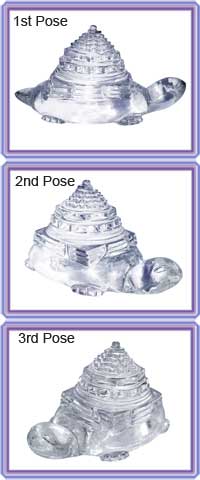 Product Name:
Shree Yantra in Sphatik (Crystal) on Tortoise-CRSYT007
Product Description:
A Beautiful Shreeyantra on a Tortoise in Quartz. Sri Yantra is one of the most auspicious, important and powerful Yantras. It is capable of bestowing totality in life. Around the Shree Chakra three boundaries are drawn which are symbolic of the three energies. Shree Yantra symbolizes a total of 2816 energies or Goddesses and worshipping this Yantra means worshipping all these energies. It is the source of attaining all worldly desires & fulfilling all wishes through cosmic power. Kurma Shreeyantra is an embodiment of both Laxmi and Vishnu energy and is a popular form of Shreeyantra which is installed for attraction of wealth and protection from any misfortune
Dimension :
9.5cm x 5cm x 4.5cm
Donation Amount :
Rs 19250/- or $ 275 USD
Tulsi & Shaligram Vivaha Vidhi
New Link
Click Here More New
Devotees Please Click Arrows Below for Quick Selection of"Shree Shaligrams"
Shaligram
Rudraksha
Dwarka Shila
Giri Govardhan Shila
Shankh
Aura
Parad
Meteorites
Murties & Idols
Yantras
Puja Items
CD's, DVD's & Books
Main Categories
View All Categories
Shaligram Water kit
Gandaki Water
Shaligram Water
Our Clients Temple
Click Here Payment Option
Click here for more Testimonials