Avahana or asana mudra, for offering a seat to the Lord.
Showing snana mudras.
Silas are bathed eight times by mudra-mantra. We chant a verse from the Sri Jagannatha-astakam for each bath.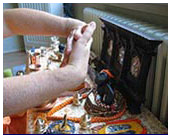 we prepare the throne of for Their return after bathing as we prepared the snana-vedi.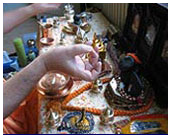 Having returned to Their throne, Their are dressed. Vastra mudra is shown.
Abharana mudra.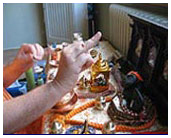 Gandha mudra.
Dhupa mudra.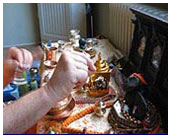 Dipa mudra.
Puspa mudra.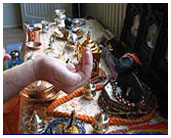 Naivedya mudra.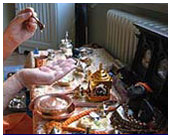 After setting the offering plate (of banana, yoghurt and gur) before the silas, We place 3 drops of water into my right palm...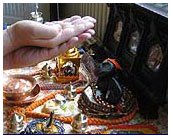 show Ram-bija mudra and chant "Raam-Raam-Raam"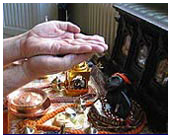 And then show Tham-bija mudra and chant "Tham-Tham-Tham." This procedure burns off impurities and nectarizes the offering.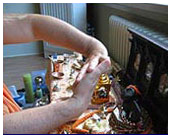 Cakra and dhenu mudras, 8 times chanting Deity's mula-mantra, then matsya-mudra. Then We ring the bell, chant the offering prayers, first line of gayatri, and chant Purusa-sukta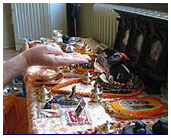 This is a general mudra. One could use it for any item. We show it when it is time to offer water after naivedya.
Punaracamaniya mudra.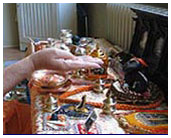 The general mudra again, now shown for tambula.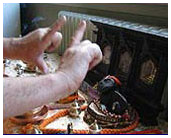 Malya mudra.
Showing the sarva mudra, which is a gesture made with the right hand on both sides of the Deity, starting on the left.